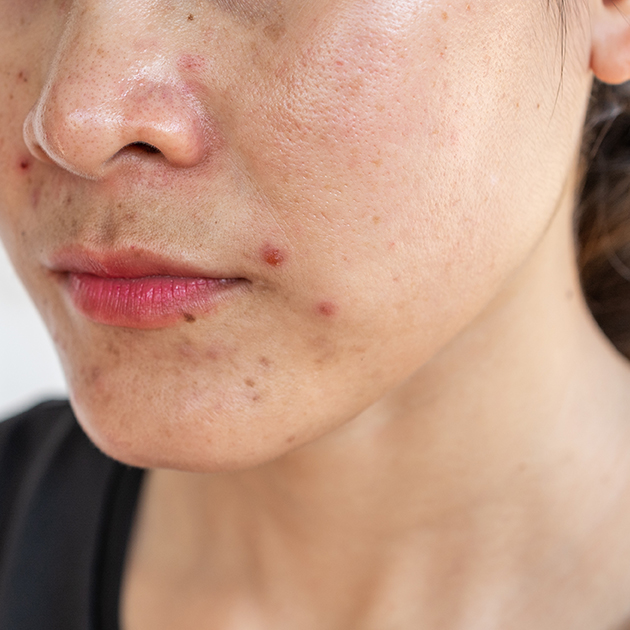 Acne vulgaris
Acne is a common concern, particularly among adolescents and young adults. While acne can occur on any part of the skin, the face is especially prone to breakouts. The causes of acne can vary, and the severity of the condition differs from person to person. Let's explore some of the different circumstances in which acne may occur
Causes
Improper cleansing of the skin causes dirt accumulation in pores, which leads to inflammatory reactions and acne formation
Excessive secretion of oily sebum causes puss-filled ripe acne with pain and redness
Acne appears mostly during puberty as a result of hormone changes in the body
Acne appears near to menstrual cycle, again an action of hormone fluctuation
Acne occurs due to SLE conditions where there is an autoimmune response in the body
Thyroid dysfunction or any metabolic disorder can also lead to acne
Heat and sweating cause acne for some
Allergies to the cloth or any other substances also cause acne
Since it is mainly seen in adolescents, it is called youvanapidika in Ayurveda. Youvana means adolescence qand pidika means papules or pustules.
Sign & Symptoms
Skin lesions
Redness
Pain
Itching
Oozing
Scar marks
Dark pigmentations
Change in skin texture and color
Pus filling
Line Of Management in Ayurveda
Panchkarma cleansing therapy, to eliminate doshas from the body
Nitya virechana or regular purgation to eliminate accumulated doshas.
Herbal combinations in decoction form to balance doshas involved
Face packs for external application
Herbal oils
Medicated decoction wash
Diet control
Follow the proper sleep-wake cycle
At Ayursathya Ayurveda, doctors first find the root cause of Acne and plan the treatment accordingly, we have great result-oriented Herbal medicine including detoxifying drugs, used per patient condition, age, and as per digestion system status.
Maintain regular timings for food and
Do not scratch or squeeze to avoid scars.
Diet Plan For Acne Management
Avoid spicy, sour , oily foods
Reduce sugars, tea/coffee, condiments , pickles, soft drinks, masalas candies, ice creams, butter , cheese
Have lots of lemon juice, coriander soup, mint juice
Reduce fat intake
Eat fresh foods
Increase intake of vegetables
Wash and cleanse your face frequently
Contact Us Today!
We are pleased to inform you that there is free parking now available when you visit Dr. Sathya. The name of the parking area is Samara parking. It's just opposite to West zone supermarket. Behind the al ain center building. Just inform the parking person that you are going to the Ayur Sathya clinic. Make ensure your appointment before coming